museumplus@nationalmuseum.se [sv]
dataskyddsombud@nationalmuseum.se [sv]
02/07/1818
København (By) [no], ,
---
04/11/1878
København (By) [no], ,
---
Marinmålare - fartygsporträttör
---
C. Olsen arbejdede som malersvend til 1848, hvorefter han etablerede sig som marinemaler med skibsportrætter som speciale. En tid skal han have været medhjælp hos Anton Melbye, ellers var han autodidakt. O. udstillede udelukkende billeder af sejl- og dampskibe i søen. Disse mariner viser unavngivne fartøjer til forskel fra skibsportrætterne, hvor skibets og undertiden også kaptajnens navn er ridset ind i billedfeltets nederste hjørner. Kompositionerne har den samme professionelle karakter, skibe i farvande med genkendelige kyststrøg. På de bedste får man et indtryk af havets køliggrønne vandmasser, på andre kan farvelægningen virke tung. Baggrundskulisser som Sydsjællands og Pommerns kyster eller Nordnorges forrevne fjelde tyder på, at O. ind imellem har været med som passager på nogle sørejser.
Källa: Hanne Poulsen, 4th version of Weilbachs Kunstnerleksikon.
---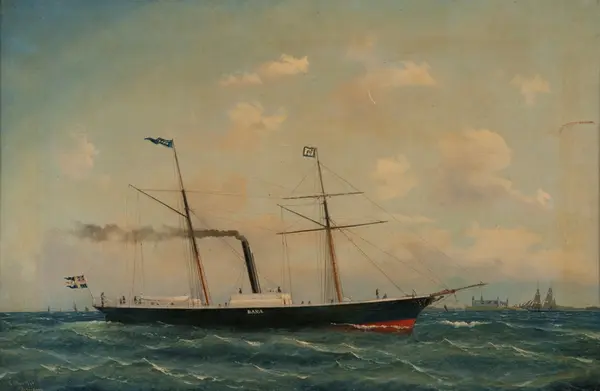 Lastångfartyget DANA, 1868
---